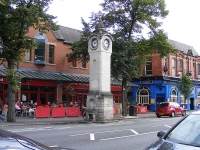 A family owned business, Quality Kitchens and Bedrooms ltd has provided excellent standard kitchens and bedrooms to homes across Didsbury for thirty years. We take care of every step of the process: from the design, to the creation and the fit. Our years of experience put us in a good position to offer you the best possible service. Regardless of what particular look you're going for, or the various factors that often have to be taken into consideration when designing and fitting for specific properties, you can be confident that your kitchen and bedroom will be fitted to a truly high quality.
Some of our clients in Didsbury are keen to update their kitchen or bedroom to achieve a modern look. Others like to keep a traditional aesthetic appeal. Fortunately, we have a lot of experience in designing both types of room. We use only the best quality materials, ensuring that these rooms will serve you well for years to come. Although we maintain a strong online presence, we encourage our customers to come and visit us in our shop, to get a better idea of what exactly we can offer them. Our team in Didsbury is also able to design and fit bathrooms, so we really are a one-stop-shop for all your home's improvement requirements.
We pride ourselves on our experience, our skills, our prices, and our friendliness. If you live in Didsbury and are looking to do some work on your house, get in touch with us today. We would love to hear from you.
Image: Courtesy of BY-C