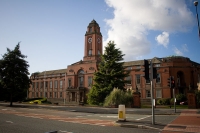 Quality Kitchens and Bedrooms ltd has provided top class kitchen and bedroom, design, build and fit to homes across Trafford for thirty years. As a family owned business, we understand how important it is to love your home. For this reason, we take a great amount of time and care designing and putting together the perfect kitchen and bedroom for you and your family, for the lowest possible prices.
Whether you like the chic and modern style kitchens and bedrooms that are currently popular on the market, or whather you favour the traditional, back-to-basics look, we are confident that our years of experience put us in good stead to provide you with exactly what you're looking for. We encourage all of our customers in Trafford to come and visit us in the shop, to see firsthand some examples of previous work we have carried out. We are so confident in what we do, and we'd love you to have a look yourself.
We are also able to offer bathroom design and fit: testament to our commitment to providing our customers in Trafford with the perfectly designed home in completion. Again, we invite you to get in touch to see some of the work we have carried out in the past, to see if you can gain any inspiration from them.
As a friendly and approachable team, we love hearing from prospective customers in Trafford and discussing their ideas with them. We are commited to helping you in every step of the process, and relish a challenge. Regardless of what look you love, we just love to help you achieve it. Get in touch today to let us do just that!
Image, Courtesy of Parrot of Doom